Cooling

| Air Conditioning | Refrigeration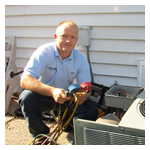 Residential, Multi-Unit Apartment or Commercial HVAC.
At Bartkus Home Systems we have the training and experience to install and service all your cooling needs. Whether Single or Dual zone residential, multi-unit dwelling apartments or commercial applications we have the know-how and the skills to get the job done right, the first time.
As a Rheem Authorized Dealer and Installer, we are your one-stop-shop for all Rheem heating, air conditioning and plumbing products and services as well.


Sometimes a simple maintenance can make all the difference in the world. The photos below show a single family home air conditioning unit with the coil fins blocked by dust, yard waste, lint and other debri. The coil fins are how your air conditioner removes heat from your house. Blocking those fins makes the air conditioner incredibly inefficient and shortens the life of the most expensive components. While it may be tempting to try to clean your own air conditioner, the unit is quite delicate. Without experience behind you, it's easy to do more damage to the unit, requiring a replacement rather than a repair.


Residential Air Conditioner Unit Annual Maintenance

Phase 1
Phase 2
Phase 3
With the condenser coil fins blocked by dust, yard waste and other materials, this air conditioning unit wasn't cooling the house, and it was putting more stress on the motor and compressor units.
After removing as much of the material as possible by hand, a good long soak with an environmentally friendly cleaning solution takes care of the rest of the offending clogs.
After a careful wash down, the condensor coil fins are now back to near-new condition and the air conditioner is working at optimal efficiency.
In addition, Bartkus Heating, installs, maintains and services the cooling needs of commercial and multi-unit apartment buildings.
Commercial and Multi-Unit Residential Installations

Commercial


Apartment Building
This installation was needed to replace a.... on top of a commercial business in the xxx neighborhood. While the old unit may have been fixed, again, the client decided to go with the efficiency of a new unit.


This apartment complex in XXX was having constant maintenance issues with their air conditioner. Replacing the unit with a Rheem (model number) that services XX number of apartments with much lower power consumption makes for happy renters and happy landlords..