Plumbing

| Repair | Remodel | Maintenance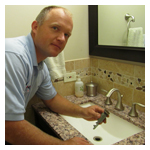 Residential, Multi-Unit Apartment or Commercial Plumbing.
As a full service provider, Bartkus Home Systems provides services from the simple to the complex. Whether you need new faucets and bowls installed, toilets, disposals, or dishwashers replaced, or a clogged drain cleared, we will be there to help. If your needs are a bit more demanding, like replacing or uprading your water heater, or installing sump pumps with battery backup sysems, we have you covered there as well.
| | | | | |
| --- | --- | --- | --- | --- |
| Old Traditional Water Heater | | High Efficiency Tankless Water Heater | | High Efficiency Water Heater |
| | | | | |
| | | | | |
If the late riser in your family alway seems to have to take a cold shower, it may be time to consider replacing that old worn out water heater with a tankless water heater. Unlike the old fashioned water heaters, a tankless water heater only heats water when you need it. That means it isn't using energy all day keeping water hot when no one needs it. Tankless water heaters take up less room and require less overall maintenance over the life of the unit. If your old water heater is on its last legs, you might want to consider having us replace it with a tankless water heater.
If you have a hot tub or heated pool, or a lot of hot water demands in your house, you might also consider a High Efficiency / High Recovery water heater. The unit pictured above replaced 2 old fashioned water heaters and provided more hot water and saves energy costs.