Air

| Quality = Comfort and Health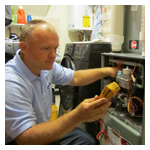 Humidifiers
When temperatures drop, so does the humidity. By using a whole house humidifier on your existing or new furnace makes your home or office more comfortable by adding moisture to the warm air. Moist air holds more heat than dry air making your furnace more efficient in the process of warming your place up. A whole-house humidifier can help reduce dry and cracking skin, bloody noses and headaches. In addition, moist air can help keep your wood furniture in better condition.
Winters in Chicagoland are tough on all of us. Make it a little more comfortable and save on your bills by having us install a humidifier for you today.

Air Cleaners
Let your furnace help clean your house. You can vacuum, dust, wipe and disinfect all day and still you will have dust, bacteria and mold spores in your house. Better than a simple furnace filter, a whole house air cleaner is designed to filter out dust (and dust mites), mold, bacteria and even virus-sized intruders in your home. If anyone in your family suffers from allergies, asthma or any other respiratory ailment, a whole house air cleaner is an excellent way to help ease their breathing and your concern.Whether you choose a filtered model or an electronic model that neutralizes all airborne threats it catches, a whole house air cleaner will reduce the amount of irritating and harmful material you breathe in every day.
Choose to breathe easier today, get in touch with us about a whole house air cleaner.